Window Product Information - Shutters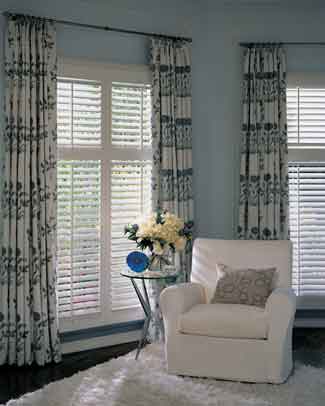 Hunter Douglas
&nbsp Style: NewStyle hybrid shutters
Interior window shutters have long been a traditional and beautiful addition to any home and are also considered an investment that will add lasting value to a home.
Shutters create an attractive, yet functional solution for any room.
Shutters can control heat, noise, and privacy. These products offer excellent light control and provide superior ultraviolet protection.
The timeless elegance of shutters adds an enduring touch to traditional, contemporary, city or country surroundings.
Most shutters are offered in multiple configurations to cover all types of windows including bow, bay, French doors, patio doors and specialty shapes.
Most shutters offer varying louver sizes and front tilt or hidden tilt bars for unobstructed views.
Shutters are offered in different materials consisting of real wood, polysatin or vinyl and alternative wood or faux-wood.
Shutters can be installed inside mount or outside mount depending on the window molding and sill construction.
If you are considering shutters, always think about opening the shutter doors and whether or not any obstructions exist.  For example, a kitchen faucet can be an obstacle to opening a shutter installed behind a kitchen sink.
Wood Shutters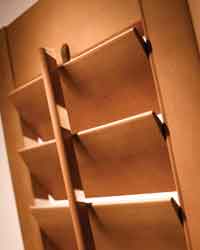 Hunter Douglas
&nbsp Style: Heritance hardwood shutters tilted
Capturing the natural beauty of real wood, our shutters are constructed from premium hardwood and feature the centuries-old craft tradition of fine dovetail joinery combined with an innovative multiple-coat finish.
Real wood shutters are most similar to fine furniture and offer the most selection in wood finishes.
While shutters are a great solution for any room in the home, areas that have warm temperatures or where humidity may be a concern for hardwood products, you may want to consider an alternative–wood or polysatin shutters.
Polysatin Shutters
Polysatin offers an enduring, custom-crafted, classic style, and a solution ideal for windows exposed to high heat, humidity, and other extreme climate conditions.
Polysatin shutters are made of specially formulated ultraviolet resistant poly-satin compounds, are guaranteed never to warp, fade, chip or peel, regardless of high heat or other extreme climate conditions.
Polysatin shutters are offered in varying shades of white resembling a painted wood shutter.
These shutters are a good choice for bathrooms, kitchens, pool and sauna areas or areas such as kids' rooms that may require frequent cleaning!
Alternative Wood Shutters
The alternative or faux-wood shutters are made from engineered materials that offer an affordable luxury alternative to a custom wood shutter and are offered in various colors.
Marking an evolutionary trend in shutters, these hybrid shutters combine the great style of wood with the strength, stability, and straightness of advanced modern-day materials.